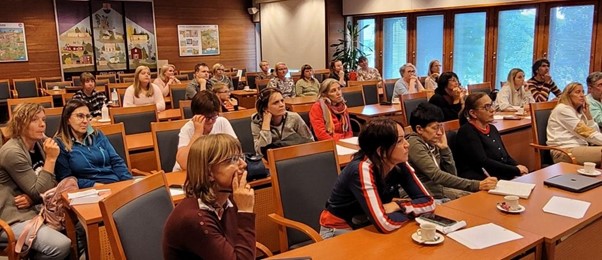 The multiplier event of the Erasmus + INCLUDED project in Finland took place in Orivesi on the 8th of September 2022. There were different keynote speeches with the title "Inclusive Education and Tangible Digital Storytelling" and a discussion in small groups with the topic "Tangible Digital Storytelling and Inclusion" after the keynote speakers at the end of the multiplier event.
During the event, the Erasmus plan of the city of Orivesi was also presented to the audience including even some participants from Italy. The city of Orivesi received the Erasmus+ accreditation in 2021. In addition to the Erasmus+ accreditation mobilities including collaboration with European partner schools, all the schools in Orivesi have their own Erasmus+ projects going on.
Location: Oriveden kaupunki, Keskustie 35300, Orivesi (Finland)
Hours: Thursday, September 8, 2022, from 1 p.m. to 4 p.m.
---
Programme
13:00 Welcoming words
13:10 Erasmus+ INCLUDED project presentation
13:30 Erasmus+ plan of the city of Orivesi: Erasmus+ enriching lives in Orivesi
13:45 Inclusion in Early Childhood Education and Care in Finland
14:00 Joy in Motion project
14:15 iTheatre – Experimentation at Rovastinkankaan koulu: Inclusive Education and Tangible Digital Storytelling
15:00 Coffee break
15:15 Discussion in small groups: Tangible Digital Storytelling and Inclusion
15:45 Conclusion
---